Learn Spanish in South America with NICE
If you wish to learn Spanish in South America, NICE offers you the right language courses!
Spanish does not only sound beautiful, it is also one of the most popular languages in the world. Therefore it is not a surprise that more and more people are eager to learn it. And where would it be easier than directly in South America?
We developed a unique course concept to improve your Spanish as quickly as possible and prepare you for your life in Argentina: Our experienced teachers will practice with you in small groups of 2-4 participants not only inside, but also outside the classroom. This way, you learn how to cope with everyday situations from the very beginning. Among natives, you will hear the "real" Spanish and learn new expressions and vocabulary playfully. We are proud that even beginners without any prior knowledge can easily start their internship or voluntary service in Argentina within a few weeks!
Our Spanish Courses
At our language school in Argentina, we offer a variety of Spanish courses, which will ideally prepare you for your internship or voluntary service in South America. Curious? Then find out which Spanish course suits you!
Learn Spanish with our NICE course concept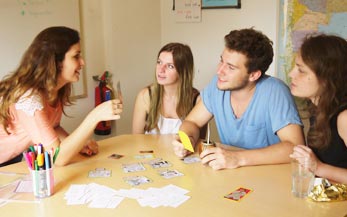 Our specially developed course concept will enable you to learn and improve your Spanish efficiently within a very short time: Compared to other language schools, almost the double amount of contents will be treated and trained weekly. This might be challenging but it is a necessary precondition to have a successful start into your internship or volunteer work after only a few weeks. The courses also involve the Spanish speaking environment. So you won´t have any problems to immerse into the Argentine culture from day one and to master the daily life in your new "home of choice".
Depending on what you want to focus on, you can combine our Intensive Course with Conversation Training, Specific Spanish or Tango lessons. The concept is highly appreciated by our customers and also you will be able to speak Spanisch in Argentina in no time.
8 good reasons for choosing NICE and our Spanish Courses
We personally consult you regarding the choice of your course, the organization of your stay and the preparations for your travel to Latin America. From a great variety of courses, you can choose the course that best fits your needs. On-site, your progress will be determined by weekly tests and the composition of the group will be optimized regularly.
At NICE, you do not only take a language course but also learn a lot about Latin America and the culture of Argentina: You will learn Spanish vocabulary having a chat with Argentines, attend events, travel to different cities and countries.  You will dance tango, prepare empanadas or have an Argentine asado. Besides that, you will automatically apply your language skills and learn important new words for your stay in South America.
You have certainly experienced this during other language trips: You learn a lot in class, but in everyday life, you lack the right words. At NICE you can simply add a special module to your Intensive Course: Conversation-Training. In this module you will practice how to handle typical situations and simultaneously learn the appropriate vocabulary!
All of our teachers are native Spanish speakers. They are trained academically and experienced in teaching Spanish for foreigners. In addition, all of our teachers speak English in order to guarantee a comfortable start.
Our classes are held in small groups of 2-4 participants. This enables an ideal integration and interaction within the class. Due to the small class size, you will progress rapidly.
We teach the Spanish language as spoken in Spain as well as in South America. However, we focus on South America and the practical relevance, making sure that you are well prepared for your internship or voluntary service within a few weeks.
Our language school is centrally located in the city of Córdoba. Enjoy our modern classrooms with multimedia equipment, air conditioning and heating. In addition, WLAN, as well as coffee and tea, are included in our free services.
As an Argentine foundation, we are dedicated to educational and cultural exchange in South America. We want our language courses to contribute to international communication. Therefore we make sure that our services and prices are affordable for as many people as possible.
All our courses and prices.
We are happy to answer your questions!
Why Argentina? Why South America?
Argentina is one of the most exciting countries in the world. You will be impressed by its incredible landscapes: an excursion to the Iguazú Waterfalls is just as impressive as the cultural contrast program in the metropolis of Buenos Aires. Likewise, you will be thrilled by the overwhelming hospitality of South Americans. Argentineans are very sociable and patient. You will quickly get to know the locals, apply your Spanish skills every day and rapidly make progress. In addition, the social differences in Argentina are smaller compared to the neighbouring countries. You will feel safe and comfortable even if you are travelling by yourself!