Spanish Workshops: Learning Spanish and experiencing culture!
You want to make proper use of your free time in Argentina? You are excited to learn more about the country and its customs?
Our Spanish workshops enable you to get to know the country and its culture as well as learning new vocabulary for your life in South America.
You can learn Spanish while dancing tango or taking part in an asado (barbecue).
This way, you do not only apply what you have learned during your Spanish lessons, but also discover the secrets and traditions of the Argentine and South American cuisine for instance. Learn how to prepare empanadas (stuffed pastry), the typical sweet alfajores, or mate-tea.
Moreover, our tango or folklore workshops will demonstrate you another aspect of the Argentine culture and enable you to take part in a so-called milonga or peña (dancing events).
There are plenty of opportunities for you to try out new things and gain insights into the secrets of the Argentine culture.
Curious? Below you will find a selection of our Spanish workshops.
How to become a Tango dancer
Learn the basic steps of the world-famous dance right where it was born. Once you made first contact with the music and the rhythm, you will be enthusiastic to become an expert in dancing Argentine tango!
Cooking delicious Empanadas
Learn how to make traditional Empanadas with various stuffing. And of course, after the hard work you can fill your belly with the freshly prepared, warm dumplings you just made.
Mate – more than just a drink
After taking part in our Mate workshop you will know everything about special customs and preparations of this typical argentine drink.
Along with your Mate you will enjoy delicious Alfajores (cookies filled with caramel cream) or self-made Chipas (cheesy bread rolls).
Asado – The Argentine barbecue
Prepare an Asado like the gauchos used to: Participate in the famous Argentinean BBQ event! Learn about history, different types of meat and the traditional preparation procedure.
Dancing to folcloric rhythms
Students love going to live concerts where you can dance to traditional rhythms until early morning.
This workshop teaches you the most popular dance called Chacarera, so you can join your argentine friends to the next concert!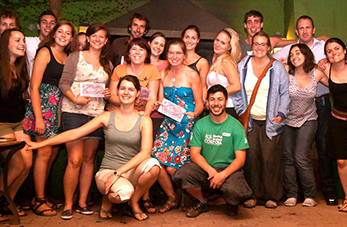 And the next time ...
… you will be part of it!