Gap Year in South America: The project for high school graduates in Argentina
Do you feel like going abroad after your graduation? The school is (almost) over and you only want one thing: travel far away, get to know a new culture and spend an exciting time with other young people abroad! You have a lot of options: Work & Travel in Australia, Au Pair in the US, Volunteer Work in India…That is all too common for you? Do you rather want to get to know South America and also gain first international work experience after your graduation? Then the perfect choice is NICE! With our Gap Year programme, you have the opportunity to do an internship in ten exciting areas like business, culture or social work. Choose whatever suits you best!
No matter if you want to test yourself or need a pre-study internship – after graduating from high school it's the perfect moment to gain your first experiences abroad, to learn a new language and to acquire intercultural skills. This will make your trip to South America a unique experience you will always remember.
Internships suitable for high school graduates
There is no better time for an internship in another country than right after high school. Our Gap Year Program allows you to work in Argentine companies without any previous knowledge and to gain international working experience. Simply select your area of interest and apply! We will contact suitable companies and send you exciting internship offers.
Choose from 10 exciting areas and we will send you individual internship offers:
Gap Year South America: All you need to know!
If you want to go abroad right after high school, you should ideally apply 5 to 6 months in advance. For last-minute applicants, we introduced an express placement which allows you to apply for an internship at the latest 1-2 months before your departure to South America.
In the application form, you indicate all your areas of interest for your internship. You then send the form back to us along with your CV and a picture of you. As soon as we have received your start fee, we will translate your CV into Spanish and contact Argentine companies which offer internships in your desired area that do not require any previous knowledge. Once an institution offers a position matching your profile and your desired time period, we will forward this internship offer to you. This way, you can choose your favourite position out of different offers.
Depending on the type of placement you chose – standard or express placement – it will take a maximum of 6 or respectively 3 weeks until you receive your first internship offer.
Within our Gap Year Program, you also have the possibility to do a pre-study internship for your future studies. Pre-study internships are commonly required in the area of healthcare and for some business studies. In case you would like to acknowledge your Gap Year in South America as a pre-study internship, we are happy to advise you.
In general, any formal requirements for the acknowledgement of an internship, i.e. issuing confirmations or a sufficient internship duration, can be fulfilled within our Gap Year Program.
In case there are additional highly specific requirements, i.e. the characteristics of the Argentine internship institution or the supervision during the internship, it is recommendable to switch to the Personal Fit Program.
With our internship packages or volunteering offers you do not have to take care of anything. We prepare you individually and advise you on flights, insurances, vaccinations, travel tips and anything else you need to know with regard to your adventure in South America. In Argentina, we will pick you up from the airport, you will learn Spanish in our intensive courses, do the internship you have been dreaming about and live together with warm-hearted Argentineans.
You can count on us: NICE is right on site with you. We are available, when you need us and help you to realize your dream of an internship in Latin America.
All the services included in our internship placement are listed here:
Money back guarantee:
If we cannot provide a suitable Gap Year in Argentina, we will refund 100% of the Start Fee. However, we can assure you that this is rarely the case.
The right offer for you:
Only if you decide to accept a Gap Year offer, we will charge the Organisation Costs.
If you are interested in doing your internship abroad in a particular area which is not listed here, you have the possibility to choose our Personal Fit Program. Usually, Personal Fit is chosen to find an obligatory internship for students, but in exceptional cases, it can also be used by high school graduates. Within this program, you can describe in your own words what your internship in Argentina should look like. The placement is then precisely geared to your specific wishes.
You can also find available internship positions, offers for volunteer work and Gap Year projects for high school graduates in Argentina on our internship portal. As you will see, some vacancies are marked as "Gap Year". Those internships and volunteer positions do not require any previous knowledge.
The first thing that comes to mind when thinking about Argentina is Buenos Aires. Therefore it might be surprising that many participants choose Córdoba as internship location. The university city is the second largest city in Argentina. Its cityscape is characterized by a great number of students and there is a diverse cultural program offered every day. Due to its size, many places are located within walking distance. In addition, Córdoba is less anonymous than Buenos Aires, so that you will get to know people – Argentineans or other interns – in no time.
We, therefore, recommend Córdoba for participants who are going abroad for the first time. Our language school and headquarters are also located in Córdoba which enables us to ideally support you during your stay.
It is easy to go abroad after high school!
Choose a package or create your own: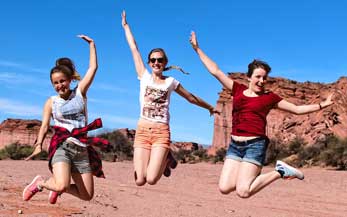 Package 1
Short stay in Argentina 6 weeks
In Córdoba: 6 weeks
2-week intensive course
4-week social internship
Total: 750 Euro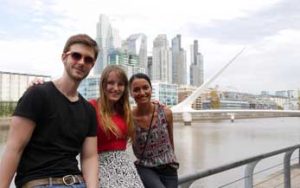 Package 2
Internship in Buenos Aires 8 weeks
In Buenos Aires: 8 weeks
8-week internship
8 weeks of accommodation
Total: 1420 Euro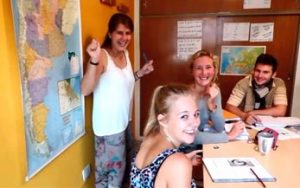 Package 3
Spanish & work experience 10 weeks
In Córdoba: 10 weeks
4-week Intensive Course Plus
6-week internship
10 weeks of accommodation
Reception service
Total: 1970 Euro
Package 4
Variety & experience 18 weeks
In Córdoba: 18 weeks
2 weeks Intensive Course Plus
6-week volunteer work
10-week internship
18 weeks of accommodation
Reception service
Total: 2440 Euro