David, 19 years, 6 months volunteer work:: NGO for homeless people
Also David took some time off after the exams. He worked in an NGO for half a year in Argentina. Before starting his volunteering he completed a Spanish Intensive course to be prepared for his work.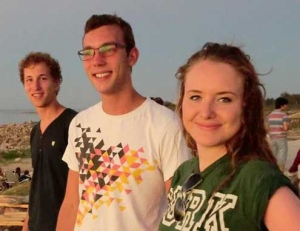 Where do you live in Argentina?
I'm living in Cordoba for seven months.
What do you do in Argentina?
I work at an organisation. We are helping the homeless by cooking them food and giving them cloth and medicine.
What most impressed you when you first arrived?
That everybody smiles.
What are the main differences that you found between life in your country and life in Argentina?
The quality of the meat and how open-minded people are. And I have a "special" hobby: drinking Mate!
How are the Argentines? (3 adjectives)
Open-minded, crazy, relaxed.
Would you recommend visiting Argentina? Why?
Of course! It's a beautiful country, it has an interesting culture and you will meet a ton of crazy yet adorable people. To resume my experience in one sentence: It was the best idea going to South!