Aino, 21 years, 9 months internship abroad: Human Rights
The finish girl Aino is studying International Relations in Aberdeen, Scotland and decided to do a practical semester in South America. Thus, she completed a nine-month internship in a museum in the field of human rights. She really felt at home in the argentine "hermosos quilombo".
When I left for Argentina almost 7 months ago I wasn't quite sure what to expect. I had read my fair share of Argentina travel guides before coming here, but to understand this hermoso quilombo, charming chaos, I needed to come here and experience it first hand. During my stay I've not only improved my Spanish skills but also learned to appreciate the Argentine way of life, travelled to the world's end and made friends in South America with some amazing and inspiring people.
Even though Finland and Argentina aren't exactly compatible, as soon as I got out of the air plane I felt at home. Almost seven months have passed and I still feel the same way about Córdoba. This city has to offer everything I could ask for; a huge student population, excellent trekking opportunities close by, friendly people, relative safety and most importantly buena onda (good vibes). However, there are some things here that may come as a surprise to Europeans, like issues public transport or the lack of good cheese for example, but hey, it's all part of the experience so just get on with it!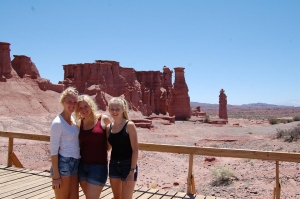 Working in an Argentine organization is an experience; work is totally mixed with drinking mate, exchanging views about politics and chatting about your colleagues' parents' health and holidays. As for me, one of the most memorable moments at work was when a museum director from South African Apartheid Museum came to visit the Archive and I got to do all the translating when my colleagues explained in Spanish how we work and what we do in the Archive.
Argentina is a huge country and there's plenty to see and explore. For example, I spent a month in Patagonia in Southern Argentina and Chile exploring the wilderness and Patagonian wildlife and got to see penguins and dolphins in their natural habitat. It's also easy to do shorter trips during long weekends, just take a night bus to Mendoza for example, spend the weekend doing some wine tasting and then reluctantly go back to work on Tuesday.
It's extremely easy to get to know new people here; Argentines are usually really keen on getting to know you and your culture. NICE organizes plenty of free time activities where you get to meet other NICE interns and Argentines, so there's no need to worry about finding friends. What I think is great about NICE is that they have a lot of young staff members who know what kind of questions and challenges you are likely to face during their stay. The services that NICE offers are great, they organize everything from lovely accommodation to a new SIM card with a combination of German punctuality and Argentine relaxedness.
So, as for me, I can highly recommend doing an internship in South America, particularly in Argentina with NICE. And don't be intimidated by Argentine accent, you'll get used to it over time. So take a deep breath, book those flights and get on that plane!