Joana, 26 years, 12 weeks internship abroad: International Trade
A friend of Joana convinced her to take some time off from her everyday stress in Germany. No sooner said than done: Through NICE Joana could complete her internship in Buenos Aires for 12 weeks. How has she experienced her time in Argentina and why did she choose NICE?
About me
My name is Joana, I am 26 years old and just about to finish my degree in Business Studies in Dortmund. As my studies have an international focal point, I came to Argentina to gain some work experience abroad, improve my Spanish and also to get to know a foreign culture. That way I combine my professional internship with the joy of travelling.
Why Argentina?
The idea of going to South America didn't just come to me like that. A friend of mine already had studied in Buenos Aires and his stories made me want to know more about Argentina. So I learned that there are, for example, the waterfalls of Iguazú, or the salt deserts and that, even though it is quite different from Europe, you still feel safe. This combination I found great: On the one hand you have the diverse, different culture, a fascinating language and the most different landscapes and on the other hand you can travel safely and the people are so nice, friendly and helpful.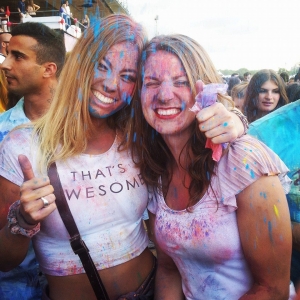 Why NICE?
I came across NICE on the black board of my University's international office. On the notice it said that NICE would help me finding an internship in Argentina and I went directly onto their website, which I found very appealing. But I still was not entirely sure what I was going to do. For that reason, I contacted NICE and this contact was what convinced me in the end, because the whole process was really friendly and it felt very close. It felt like talking to a friend who wants to support me.
Why would you recommend NICE?
I would recommend NICE, because you feel immediately taken care of and they are very helpful regarding all questions and difficulties. I received a great support and flexible solutions to my problems. Furthermore, they help you making a good start working and living in Argentina.