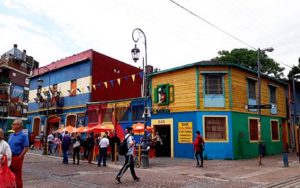 After weeks of anticipation, time has finally come: Arthur, Lu and I are starting our weekend trip to Buenos Aires, the capital of Argentina.

As usually, our weekend trip starts with a long journey in one of the comfortable night busses. Around 10 hours later we finally arrive at the bus terminal in Buenos Aires. Already on our way to the hostel we notice how incredibly huge the city is since there are so many people on the streets – and that on a Thursday morning!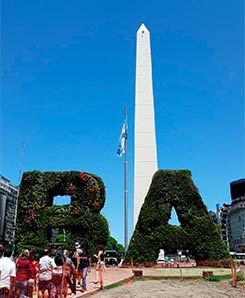 After the check-in and a small breakfast we start with our first city tour through the historical center. After a short time we notice: Buenos Aires is not without reason referred to as the most European city within South America. You can really recognize the European influences by looking at the buildings in the city center. After a while we arrive at the most famous landmark of Buenos Aires: The Obelisk. We are really impressed while standing on the biggest crossroad in the world. In the evening we visit Palermo. This quarter is known for its numerous restaurants, bars and its great night life. And that's justified: There are young people everywhere you look and also we immediately like it there and decide to have dinner in a cozy bar. Afterwards we return to our hostel since we have planned a lot for the second day of our weekend trip:
In the morning we get started with a tour through Recoleta, the wealthier district of Buenos Aires where the richer families are living. In our opinion the prettiest district of Buenos Aires.
Afterwards, we are visiting La Boca, to walk down the promenade with the colored houses. As we notice quite soon, this area is the absolute tourist hotspot. In the evening we go out with some other guys from our hostel check out the night life in the capital city. Of course they play Reggaeton music – as we are already used to from Córdoba.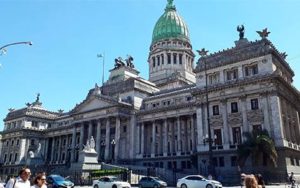 On the last day of our weekend trip we finally visit the famous cemetery of Buenos Aires which is definitely worth a visit. But after a short while we prefer having a happier atmosphere so we have a walk through the pedestrian area. A great idea since there is taking place a Tango show. Later, we get back to our hostel early because the next morning we are taking the ferry to Uruguay!