One of Christian's last trips through South America takes him to Iguazu in Argentina and starts with a 22-hour bus ride and me as an ideal travel companion ;). Typical of Argentine bus travel: The all-around service: In front of each of us is a screen with a huge selection of films and music. Our seats can be folded back completely, and the food is quite good. The best is the drinks service – a good red wine for dinner and a whiskey at midnight.

So, it's especially easy to fall asleep! The rest of the journey goes by quickly and when we arrive in Puerto Iguazu, we are welcomed by an incredible heat. Luckily it is not far from our hostel! The small hostel with pool and plants everywhere invites you to hang around. However, we have a lot of plans today, so we move into our room quickly before we visit the small town of Iguazu. We walk past many restaurants and souvenir shops until we reach a restaurant that offers Asado, "all you can eat" and at a good price. So, we sit in the restaurant full of expectation and are not being disappointed when a small grill full of meat is placed between us on the table a short time after. Viva Iguazu in Argentina! The meat is so delicious that we reorder twice, and I almost roll out of the store because of so much food.
The digestive walk leads us through the town of Puerto Iguazu to the border triangle "Tres fronteras". From Puerto Iguazu in Argentina, you can look over to Paraguay and Brazil. The view is terrific and the idea of only having to cross the river to land in Brazil or Paraguay is quite impressive. Local children are wandering around the viewing platform and try to sell small potted plants to the tourists. There are several souvenir shops on the edge of the platform, which I visit one by one while Christian is busy shooting photos.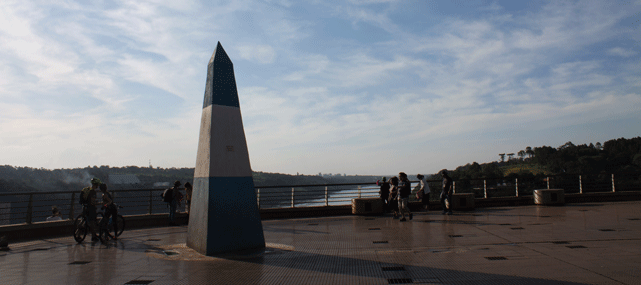 After the walk to the border triangle and Christian's obligatory "I-was-here-photo", we walk back to the city, where we find the next good restaurant for dinner. Pasta is on our list for our first night in Puerto Iguazu in Argentina – and take-away, please! Tonight, there is going to be a small concert in our hostel. A local band plays Argentine rock songs while the hostel staff and their guests listen to the music in a relaxed atmosphere and Christian and I eat our pasta. After less than 5 minutes, however, the electricity in the entire street fails and we sit there in the dark. The Argentines cannot be disturbed, which may also be due to the fact that power outages are common practice here, and give out candles. The singer starts with his next song and the audience enjoys the atmosphere in the candlelight. After a while, we leave the concert and go to sleep, because tomorrow we have a full program. Waterfalls, here we come!