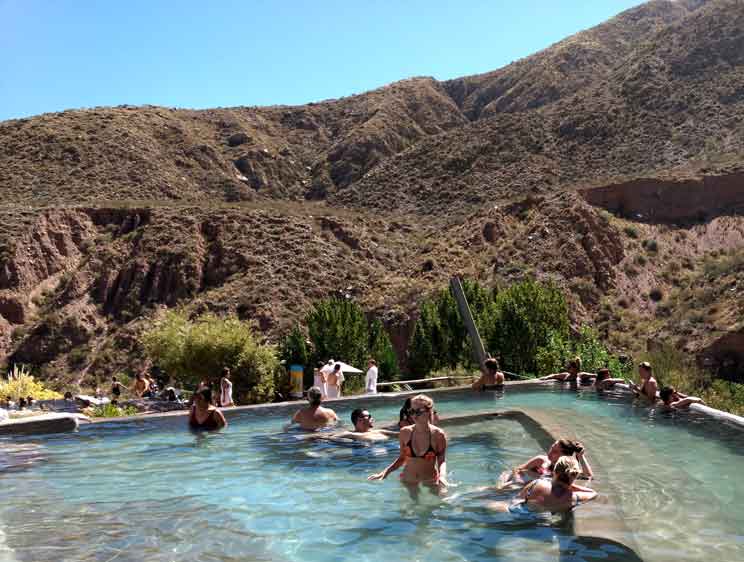 Today is the last day of our road trip and our destination is the thermal bath of Cacheuta. I'm the first one to wake up at 8 o'clock in the morning and to get started I put on some relaxed indie music. Soon after, the boys and Maike crawl out of their beds too. We have breakfast and prepare lunch boxes for later on. The thermal bath ofCacheuta is only about two hours away from our AirBnB and known for their incredible location – surrounded by a river and at the Andes foothills! When we arrive, we can hardly believe our eyes. The thermal bath of Cacheuta consist of several stone pools at different levels and with different water temperatures each. The mountain view from the thermal baths is really incredible!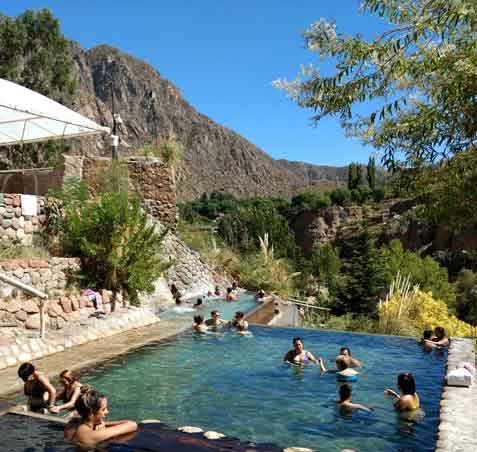 After being astonished for quite a while, we start to test all the pools of the thermal bath of Cacheuta. The temperatures range from pretty warm to ice-cold water. I jump in the probably coldest of all pools with André and Maike. Suddenly a large fountain of water erupts and splashes us from above with ice cold water. So we jump out of the pool while Christian laughs at us from the edge of the pool! The cold water wakes us up and the hunger returns slowly. We open our lunch boxes and enjoy our food looking at the beautiful mountain backdrop. Soon it's time to say "Goodbye" again to the thermal baths of Cacheuta and "Hello" to the Bodega Kaiken! Christian has discovered this winery on the car ride. As a wine connoisseur, we trust his wise judgment and embark on our last wine tasting in Mendoza.
Vine, the Andes in the background and, of course, incredibly good wine! It's a pity that André as our driver is not allowed to drink anything at all – on the other hand, there is more left for us. 😉 Four wines later, we drive back to Mendoza to return our car. The taxi driver, who takes us to the bus station, doesn't stop talking during the car ride. Like almost all Argentines, he draws our attention to the fact that Argentina will be world champion this year and that we Germans should be very cautious. We "Germans" just nod and do not talk further about the topic. This is where the fun often stops for most Argentines, especially after the last World Cup in 2014.
As soon as we arrive at the bus station, we start looking for food and end up in a nearby restaurant. We order 'lomitos', pizza and pasta and the boys, as always, eat what Maike can't eat anymore. They hope that I am going to leave some of my food for them as well but I'm way too hungry and eat up my dinner! At 10 o'clock in the evening, we take our bus back to Córdoba. We get on the bus, talk for a while and fall asleep soon after. The next morning when I look out the window, I can see the 'Sierras' again. Soon we'll be back in Córdoba, where our everyday life is waiting for us. We go back with several bottles of good wine in our luggage as well as nice memories of Mendoza, the Andes, and the beautiful moments we spent together.