Where are we now? – In Humahuaca at the colourful mountains!
"Colourful mountains", I think. Yes, but where? I am told that the sun rises behind the mountain which is why it's only in the afternoon where you can see the full-colour splendour. Who wanted to see the sun rise again? I'm even too tired for "mimimi" and open the car door in full enthusiasm only to close it again. We started our short trip with 30 °, whereas now at 4000m altitude I feel like I am in the depths of Siberia. My motivation falls and a little bit of complaining is okay now. Laura and I watch (from inside the car) the hills turn into different shades of red and purple, and I eat a piece of my carrot while the others get a bladder infection.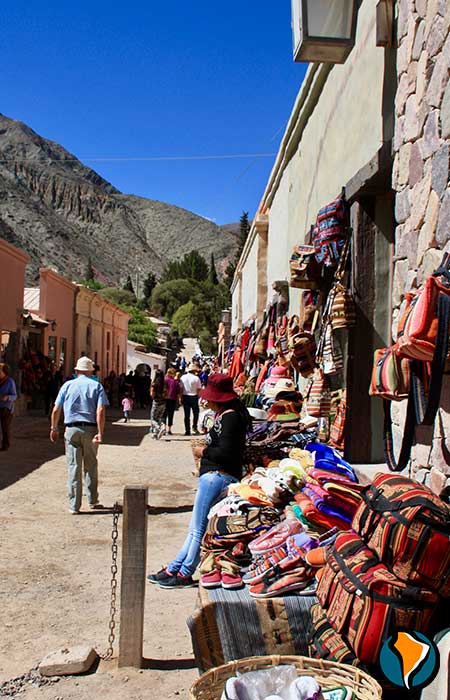 Since we are "not here for fun", shortly afterwards off we go to the next destination of our short trip. It's a small town, which mainly consists of hostels and restaurants and is located deeper in the valley where it's also pleasantly warm.
It's beautiful here. Everywhere there are pink, yellow and blue pompons and there is also a small market selling everything imaginable that you can make out of alpaca fur. We check in at the next hostel and all of us are particularly hungry.
We quickly find a restaurant and fill our stomachs with regional specialities such as humita, and lama stew (which does not taste like chicken, but like beef).
Shortly after, we go to the salt desert. Wow! There is not even that much salt at the moment (why does the amount of salt actually change?) and yet it is incredibly impressive. We take another 1 million pictures and the short trip continues. The road is more like a dirt road, but we create the probably best music video on earth while leaning out the window. During our short trip, we drive past countless cacti, wild lamas, mountains and some donkeys for hours … Every now and then someone of us notices how incredibly beautiful it's here. After some time we arrive in Salta, check in at the hostel and drive up the mountain to enjoy the sunset. Cosy, you might think. A deafening beeping echoes over Salta. No one really knows where it comes from, and yet, with this noise, our hair stands on end. We do not let us deny ourselves this pleasured, try to ignore the beeping and after sunset off we go to eat Parilla (meat!). Satisfied and full we fall into bed.
After dinner, we sit at the table and almost fall asleep. Actually, we had planned a six-hour hike for the same day (hahaha). After a short consideration, we decide to go for a shorter route and start highly motivated-not at all actually. After the first ten meters, Julian already wants to go to the next bar and I too just run up the mountain, because I don't want to admit that I don't feel like trekking. After the first half hour, the spirit comes back – everyone takes over 500 cactus- canyon- and waterfall pictures and finally, we start to walk down again.
The following day is Marie's birthday. Anne and Laura had bought brownies and candles the night before and we try to set the breakfast table before the birthday girl comes in. We sing "Happy Birthday" and are being looked at funny by the Argentines. They clap along and look forward to it anyway, just great people!
You hardly believe it, but the next day we start our way home again. And again: We drive past breathtaking landscapes until we get to Cordoba. We give the car back and are tired, but above all, happy. Summary: If you have the chance, make a short trip while being in Argentina – or a longer trip. It's worth it!